DCP regularly offers ecotours for those interested in learning more about the wild spotted dolphins that live around the beautiful island of Bimini. Although we will not be able to offer a formal ecotour in 2014, this does not mean we do not welcome our supporters in Bimini!
DCP has had the support of Bimini Adventures since 2006. Bimini Adventures donates space on their wild dolphin trips to DCP researchers each summer. We encourage our supporters to join a dolphin trip or dolphin week package with Bimini Adventures - we'll look forward to seeing you there!
Please visit www.biminiadventures.com for more details (click on Wild Dolphins). You can email Captain Al any questions - and tell him DCP sent you! Or contact DCP if you have other questions.   
General Bimini Info
(Although this information is related to a DCP ecotour, much of it applies to Bimini Adventures' programs as well)

Bimini

Bimini, the most westerly inhabited island of the Bahamas, is less than 50 miles from the coast of Florida, yet a world away. A small "family island," Bimini is a place for those looking to escape from the noise and traffic of the "real world." Less than 7 miles long and only a few hundred yards wide, Bimini is known for big game fishing, SCUBA diving, mangroves, and of course, wild dolphins.

Getting There
Bimini is most easily accessible via Ft. Lauderdale International Airport (FLL) on Silver Airways (codeshare partner of United Airlines) or Nassau, Bahamas on Western Air. All flights go through South Bimini International Airport (BIM), a 20 minute bus/water taxi ride from North Bimini ($5 each way). Airfare is not included in the ecotour price.

Dolphin Trips

Each afternoon, guests will accompany DCP researcher Kelly Melillo-Sweeting in search of Atlantic spotted and common bottlenose dolphins. The dolphins will be observed from the boat, and when possible, under water. Guests will be able to assist in portions of the data collection, if they'd like, including underwater digital still photography. All swims are done with mask, snorkel and fins (no SCUBA). Rental snorkel gear is available at no charge if guests do not wish to bring their personal gear; however, personal gear is recommended to ensure the best fit. Click here to learn more about DCP's research in Bimini. There are also opportunities to snorkel some of Bimini's best shallow sites!
Accommodation
The Sea Crest Hotel & Marina is in the heart of "downtown" Bimini. Prices are based on double occupancy, with single occupancy available. Each room has two double beds, en suite bathroom, TV, A/C, and partial bay or ocean views.
Meals
Meals are included in this ecotour package. Meals are prepared by the group's own personal chef - and you won't want to miss them! Snacks and drinking water are provided during each dolphin trip. If you have a dietary restriction, please inform DCP when you register.
*A minimum of 8 guests (some booked through DCP, others through Sea Crest) are required in order for the meal plan to be included. If this minimum is not met, participants will have the option to remain registered for a hotel & boat only package or receive a refund.*


Getting Around
Alice Town, or "downtown," Bimini is very easy to navigate on foot. Golf carts are available for rent to explore the island further. Although there are cars on Bimini, rental cars are not available – but are not needed anyway!

Money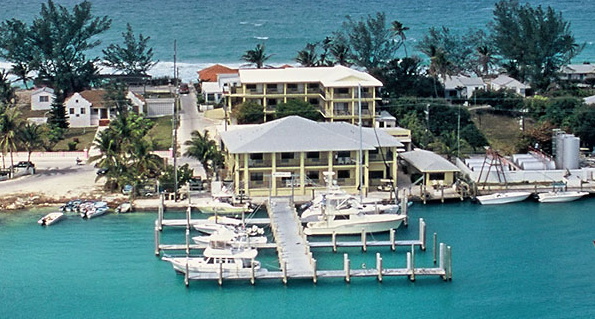 Both American and Bahamian currency is used on Bimini, with equal value. There is an ATM on the hotel property (this is the only ATM on the island!). The local bank operates on typical bank hours (M-F) and is available to cash traveler's checks or for cash advances on credit cards.
Cost Information
Price for Double Occupancy is $1845 if paying by US check. Price for Single Occupancy is $2120 if paying by US check. Credit card payment option available (without check discount): Double Occupancy $1899; Single Occupancy $2200. These fees includes everything except airfare to and from Bimini, airport/hotel transportation ($10 round trip), additional alcohol and gratuities for hotel and boat staff (not DCP). A gratuity of $100 is recommended for the week. Remember - "everything" is a lot of good stuff! Your package includes your air conditioned accommodations, 5 boat trips (weather dependent) in search of wild dolphins, additional snorkeling opportunities, rental snorkel gear if needed, 3 chef-prepared meals/day, drinking water and boat snacks.
Included in trip fee:
5, 4-5 hour boat trips in search of wild Atlantic spotted and bottlenose dolphins
Rental of mask, fins & snorkel, if needed
5 nights' hotel accommodation
3 group meals per day, prepared by the group's private chef with a glass of wine at dinner!
Additional snorkeling opportunities
Hotel taxes
NOT Included in trip fee:
Airfare
Transportation from the airport to hotel and reverse ($5 each way)
Additional alcohol
Gratuity (boat crew, chef, hotel housekeeping)
Inclement Weather
There are no refunds if boat time is cancelled or reduced due to unsafe weather conditions. However, alternative activities, such as golf cart or nature tours, will be arranged in place of boat trips.
Is there a guarantee that I will see dolphins?
Unfortunately, there is no guarantee that you will see dolphins on your ecotour - these are completely wild, free-ranging animals. However, there is over a 80% sighting success rate and over a 60% success rate for observing the dolphins under water on a daily basis. If you are uncomfortable with the possibility of not seeing the dolphins each day, please check out our ecotours at the Roatan Institute for Marine Sciences. If you are interested in joining DCP in observing the wild dolphins of Bimini, then this trip is for you!
Who can come?
Anyone with an interest in dolphins and laid back island life is welcome on this trip! Guests under 18 must be accompanied by an adult, with no exceptions. Children are welcome, however, must remain at all times, the responsibility of their accompanying adult. It is highly recommended that only children comfortable in the water join us on our dolphin trips. Comfort in and around the water for all guests is recommended. Anyone susceptible to motion sickness should take necessary precautions. All U.S. citizens are now required to present a valid passport to enter and exit the Bahamas (birth certificates are not longer accepted). Citizens of other countries should check for requirements specific to them.
Optional Activities
Interested guests have the option to add additional activities (not included in ecotour price) during the morning hours. Activities include bone fishing, SCUBA diving, mangrove tours, nature walks and more. Most of these activities can be arranged on-island, however assistance is available in acquiring information before hand.
Does joining support DCP?
Yes! By participating in this ecotour program you support DCP: at our Bimini, Bahamas field site, we need boat time in order to reach the dolphins. By signing up for this program, you help ensure that DCP gets 5 dolphin trips on which to collect our data. A small donation to DCP is also included in your package price.
Refund Info
If cancelling 30-59 days before the ecotour start date, we will refund 50% of the expedition fee No refunds are given if you cancel 29 days or less before the ecotour start date
Bimini Research Video
Watch: