Education Modules
Several programs have been developed to teach both school groups and the general audience about dolphins, dolphin research, ocean conservation, and related topics. These programs can be arranged for auditorium-style lectures (100 or more viewers) or for more "up-close and personal" discussions with groups of smaller size. Presentations include slides, video, or "prop" demonstrations.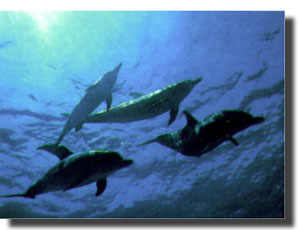 Our programs focus on dolphin communication and communication in general, on photo-identification as a tool for studying animals, on behavior and studying behavior, on acoustics and sound travel in water versus in air, on research methodologies, and on conservation issues. During each program, the scientific method is discussed and explained as it pertains to the topic.
Currently, our programs are designed to be given by staff from DCP; however, we are designing video and other teaching aids for educators to use with their own discretion. These programs are outlined in out Online Classroom Connections page.
Through DCP, we are also able to offer seminar and workshop programs for schools and companies. For more information regarding DCP education programs, or to discuss a special presentation, contact DCP.
The Dolphin Research Trainee program (DRTs)
The Dolphin Research Trainee program, also known as the DRT or "dirt" program, is a coordination between DCP and
Pine Point School.
The DRT program premiered in Spring 200  and continues this spring (Jan-May) with students in 6th-8th grade.
Internships/Volunteer Opportunities
Volunteer and internship opportunities are offered on a limited, individual basis. Assistance is needed in the processing and analysis of data at our office in Connecticut. Students from junior high school through college have participated in our programs. Some students coordinate their experience with school representatives to receive credit hours. Due to the training required, internships are a minimum of 8 weeks, full-time (~8 hr days, 5 days/week). Volunteer programs are more flexible and discussed on an individual basis.
More information about internships and volunteer opportunities.
To participate in one of DCP's Ecotour programs in Honduras, click here.
To participate in one of DCP's Ecotour programs in The Bahamas, click here.
Lecture Series Information
As the key scientist portrayed in Dolphins, Kathleen Dudzinski's cutting-edge research focuses on the communication and behavior of dolphins. Her study of dolphins has included work in the Bahamas, Argentina and Japan. A former Girl Scout, Kathleen has an avid interest in promoting science careers for women, inspiring MacGillivray Freeman Films to expand their marine science careers outreach program to include young women as well as other minorities. Dudzinski's experience as a lecturer represents a varied background: in academia – pre-schoolers to college classes (and everything in between including auditorium style to audience participation workshops); in corporate America – company seminars and workshops to evening events and banquets; in museum circles – member galas to school groups to public events. Presentations are customized to fit each audience. The size of the audience often dictates lecture style. Larger audiences require methods to reach many people at the same time, for example with slides or video or simply with words. Smaller audiences offer the opportunity to be more intimate in a presentation allowing slide or video use or more demonstration and hands-on experimentation by audience members. Audiences range in size from 15 to 350 listeners, with range in length from 15 minutes to an hour. To coordinate a presentation, contact DCP.
Suggested speaking topics/events:
Communication
Animal signals – comparisons across species
From Science to the Work Place to the Home – applying communication information
Signal Exchange – what and how we do affects those around us
Field Research
What "Team" means – working together is a foundation useful in many disciplines
Presentations about my research into dolphin communication specifically.
Comparing research on dolphins with the making of "DOLPHINS "
Stories from Dudzinski's experiences studying dolphins, as depicted in her book Meeting Dolphins
Motivational topics to encourage students to follow their dreams and goals
Career Choices in research and science