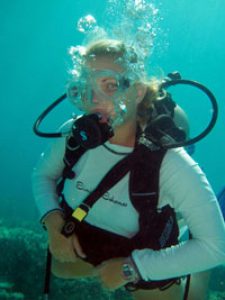 Research Associate
Brief Biological Sketch
B.S. Marine Biology ~ University of Rhode Island
B.S. Animal & Veterinary Science ~ University of Rhode Island
Master's candidate, Animal Science ~ University of Rhode Island
Darcie grew up in North Waterboro, Maine. She attended the University of Rhode Island and graduated in 2004 with dual B.S. degrees in Animal Science and Marine Biology to enhance her background in the sciences. She loved her experience at URI so much that she decided to continue her education in the Animal Science graduate department there. As a Graduate Assistant, Darcie taught undergraduate labs and worked at Peckham Farm.
Darcie started working with DCP as an intern in the spring of 2004. She began traveling to the Bimini field site that summer and really enjoyed island life and studying the Atlantic spotted dolphins that reside in the waters surrounding the island. She is particularly interested in calf association patterns and is comparing the behavior of the dolphins in Bimini to that of the bottlenose dolphins that reside at the Roatan Institute for Marine Science . Darcie was in the field during the summers of 2004, 2005 and 2006.
During her tenure with DCP and as a Graduate Assistant, Darcie found a love for education and has also had lengthy experience working in the domestic violence and sexual assault field. In June of 2007, she took a position at the Women's Center of Southeastern CT, Inc. as the Assistant Director of Community Education and Outreach and continues to write her thesis. One day, she would like to get back into research but has decided education is where she'd like to be right now.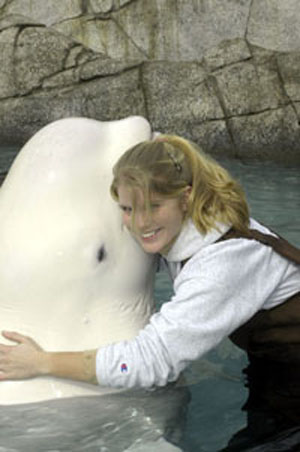 Darcie grew up with a love of the ocean and animals, often rescuing orphaned birds or adopting strays from the local shelter. She has had jobs as a Veterinary Assistant, a Camp Counselor/Director at a summer camp, as well as a volunteer at the Marine Animal Lifeline in Maine. She enjoys skiing (both on the water and in the snow), SCUBA diving, reading, and spending time with her friends and family. She is currently living in Colchester, CT with her husband and her rottie, Capone. She's also acting as a foster mom for dogs through Hot Water Rescue as she finishes up her M.S. degree.
VIDEO: Darcie discusses her work with DCP
{flv}darcie{/flv}