We had our dolphin encounter on Monday – we got to dance with, get a kiss from, and hug a dolphin. The encounter, with Missy, was awesome! The dolphin skin felt like a hardboiled egg.
We also learned about husbandry behaviors and why they are important for dolphins. Then, we went to the classroom and had a chat with Sara – the vet tech for DE. She shared with us details about the various medical procedures that might be needed with sea lions and dolphins, and the other critters at Blue Lagoon Island (e.g., Iggy the Iguana, the fish and birds, too).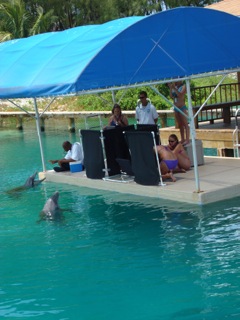 It was nice and sunny all day long – our lunch was delicious and in the sunshine which was great! Linzi gave us the history of DE and how Blue Lagoon Island came to be and then Kim gave us a talk about approximating voluntary blood draws from dolphins. It was cool to see Kim with the dolphins – she is mom and the dolphins look up to her. The dolphin flukes present the veins that are really easy to see – once you know where to look for them.
Then, we started Dr. Singer's research – we started with the boys. We were quite successful with the first two (Stormy and Jake) and then Goombay kept getting distracted by Jake so his trial did not go well. So we moved on to the girls. In all, Dr. Singer was able to complete control trials for 15 dolphins today! The photo depicts her doing a trial with Jake.
We finished the day with birthday cake and a song for Mikkah! J
Tomorrow is our beach clean up and visit to Ardastra Zoo.
Until then,
The 2012 ECCs