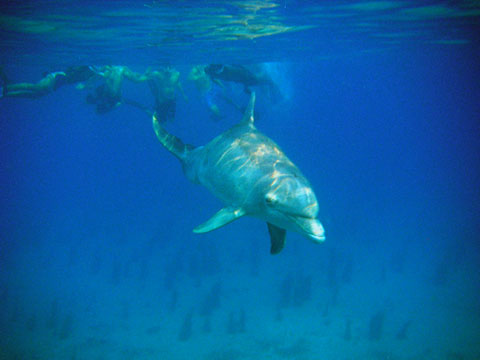 Monday was an exciting day for our new interns. After a few days spent settling into the island life and working on DCP data processing, we were able to go out on our first boat trip! We headed out with Bimini Adventures and once we were a good way from North Bimini we thought we had our first dolphin sighting! It turned out to be a shark, as Captain Al informed us later, but never fear, there is always more time to find some dolphins! A short time later, Captain Audley spotted (ha!) a group of Atlantic spotted dolphins playing in the water in the distance. We started to head over to the group and realized the dolphins were a bit scattered. A core group of four began swimming alongside the boat and riding the bow. Kel saw Speedy (#78) and Lil' Jess (#35) from her position at the front. There was also an older juvenile/young adult with them. And Lil' Jess was swimming with a calf! Kel saw a spot on the calf so maybe we can add it to our Atlantic spotted dolphin catalog by the end of the summer!
We traveled with these dolphins for some time but they did not seem very interested in waiting around for us to get in the water. It was also getting late, so we decided to change course and start to head toward home. We would of course keep looking for more dolphins on the way back. And we were lucky enough to find some! This was a group of bottlenose dolphins who did not seem to mind our presence in their area. All of the guests, Nicole and Salma got in the water, while Kel stayed aboard to get surface dorsal fin images. We thought the group was moving away from us but they stayed close for a bit! They swam by as a group and seemed to be checking us out as they did so One individual even swam over to Salma and Nicole who were able to get some great photos, like in this one! In a few of our photos you can see that at least one bottlenose dolphin had lots of spots on its belly! What an exciting find!
We all piled back on the boat with huge smiles on our faces and headed back to the dock. It was a great first day on the boat and we can't wait to do it again tomorrow!
Until then,
Nicole, Salma & Kel