Tuesday morning we began logging last week's video for IDs. It was the first time Pam and Liana had a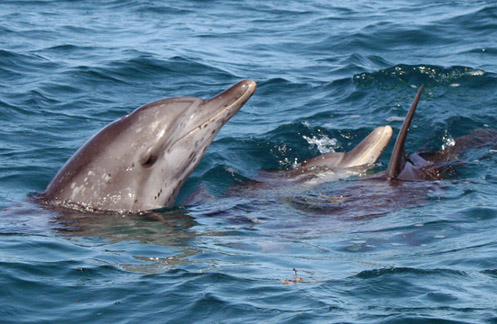 chance to review their first attempt at video data collection – they did a great job! Afterwards, we were all excited to get on the water again. As we left the dock, Pam and Liana with Bimini Undersea and Kel with Bimini Adventures, there were many clouds in the sky, but it cleared up as the day progressed. There were some familiar faces on the Bimini Undersea boat, and they were looking forward to another dolphin trip because they had such a good experience on their trip last week. We began our search for dolphins but the water was a little choppy, making our search a little bit more difficult. We followed the usual route, but today the dolphins did not seem drawn to Adventurer. We searched for several hours, but to no avail. On the way back to the dock, we stopped at "Bimini Road" (aka "Atlantis"). We and the guests had a lot of fun snorkeling. We saw many moon jellyfish and about four large blue and black fish around the road.
Meanwhile, Kel's trip had early success with another large group of Atlantic spotted dolphins. At first we only saw one mother/calf pair and another adult, but soon, Tilly (#87) was on the scene and over the next two hours and 25 minutes we also saw Leslie (#80, and her calf), Addie (#84), Inka (#93), Milo (#96, pictured here), un-named #s 40, 95 and 97 and possibly Romeo (#10), Cerra (#38) and Noodle (#94). There were over 20 individual dolphins in the group and as you can see, many were also seen yesterday!
We are looking forward to our next dolphin trip, hopeful that Pam and Liana will be able to see the dolphins one more time before they leave Bimini!
Until then,
Pam, Liana & Kel