On Tuesday, Pam and Liana got the opportunity to experience another side of Bimini's natural world: we joined Bimini Adventures on a trip to Honeymoon Harbor to see and feed sting rays. It was very cool to be able to feed them, especially since it was the first time either of us had ever been with them in the wild or gotten the opportunity to feed them. It was absolutely incredible — their backs were slimy and soft, and while they looked intimidating enough to scare a few of the guests, they turned out to be gentle and very friendly. We got quite a few caresses from the rays, and it wasn't just because of the yummy squid we were offering them! Four rays stayed interested in us, one of which was four feet wide! Soon after we returned to shore, it was time for a DCP chat with the Bimini Adventures guests.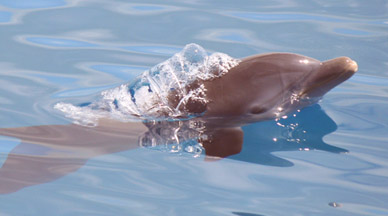 Kel talked to the group for an hour, explaining the in's and outs of DCP and the dolphins, and answering any questions the group had. We stayed to answer questions and even got three new dolphin adoptions. Thanks to this group for their interest and support! Next it was time to get ready for our dolphin trip!
We (Pam and Liana) began our last trip of July under clear blue skies and with barely any breeze. It was our first trip aboard Bimini Adventures' 42' Hatteras. The day was full of new experiences for us: new boat, new people, new languages, and our second trip with the "Top Dawg" (underwater video camera). We got used to the new boat and began our search. It turned out there were even more firsts in store for us.
At 18:11, we saw a group of about ten dolphins. It was a mixed group of bottlenose and spotted. The passengers got in the water for a short encounter, but we stayed onboard. The group of dolphins then split into two and we followed the smaller group of three spotted dolphins. These dolphins were on the move, so we soon left them and caught up to the others again. There was a lot of splashing and physical contact; the group was very active! We got in the water even though it wasn't for very long, we got quite a few good photos and some good video data. We definitely observed some sexual behavior involving male bottlenose and a few adult spotted dolphins, but we were unsure of the spotteds' sexes. This was the first time we saw this behavior in the water even though we've seen it in the video tapes. Everything was so fast that we weren't able to confidently identify anyone, but that's what the photos and video are for!
Meanwhile, Kel was with Bimini Undersea, leaving just minutes before us. For this group of humans, the dolphins came early in the day: at least 12 bottlenose dolphins, including two mother/calf pairs, were working a relatively large patch of sand, looking for grub. They watched them from the boat and observed them underwater. We saw them crater feeding, once again seemingly paying no mind the nurse shark in their midst. There were at least two females in the group (the mothers, perhaps?), so Kel is hopeful we'll be able to match this sex data with an existing dorsal fin ID. Of course, before the underwater observation, Kel collected another slew of dorsal fin photographs. Every photograph we collect, every minute of video we record, means more work ahead of us! But, of course, we couldn't be happier.
Until next time,
Liana, Pam & Kel