Pam & Liana headed out Sunday with Bimini Undersea and their 12 guests, 8 of whom were on earlier trips and eager to see dolphins. It was a clear, beautiful day, eventually reaching glassy-calm surface conditions that allowed us to see straight to the bottom even in depths of 40 feet! We saw some interesting new marine life including a sea turtle, a triggerfish, a cushion star, flying fish, and a barracuda. But it was dolphins we were really after. Soon, we saw at least 11 bottlenose dolphins, including at least one calf. They stayed with the boat for almost twenty-five minutes, bow riding and giving the guests quite a show. We were able to get in the water with them as well. But soon other boats approached, and we decided to give them their space and head off in search of spotted dolphins. Pam was ready to get out anyway because as soon as she hopped in the water, the remoras found her!
We sailed on and we spotted (ha!) what we were looking for – spotted dolphins on the horizon. We excitedly increased the initial count from 5-6 to our final count of 7-10, with two mother-calf pairs. The group was very active, we were able to get in the water with them twice. There was a lot of contact between the dolphins in the water and they formed a tight group of about 5 that stayed very close together. Eventually, these last of the dolphins lost interest and we returned to the boat.
As we again observed the dolphins from the boat, one played with a fish in its mouth! This second encounter was shorter and the dolphins seemed more focused on each other; we saw quite a bit of pectoral contact and touching between the dolphins, including some belly-to-belly swimming. We know Milo (ID#96) was there and hope to ID some more from our still photos!
As we headed back, we reflected on our trip. We couldn't have asked for much more — perfect viewing conditions, bottlenose dolphins, spotted dolphins, some interesting marine life, and a great group of guests!  Though perhaps maybe Pam could have done without the remoras!
Meanwhile, Kel headed out with Bimini Adventures. This group of humans was equally excited about the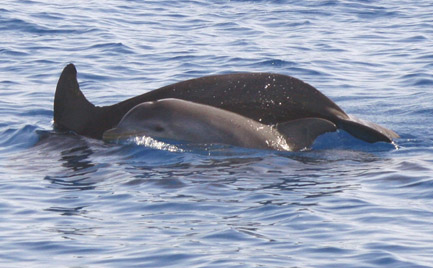 great weather and eager to see dolphins. The first dolphins we saw were also bottlenose – a group of at least 25! While Kel was busy taking dorsal fin photographs from the surface, the guests got in and enjoyed great views of the big group. Afterwards, we continued to watch them from the boat, all the while keeping our eyes out for spotteds. Eventually we opted to say farewell to this group and go test our luck in different waters. Apparently, it was destined to be a bottlenose day for this boat though – we eventually found more! Analysis of the still photographs will allow us to determine if in fact some of these 11 bottlenose were also in the earlier group of 25. After collecting more still photographs, Kel hopped in with the MVA and got video of the entire group of 11 cruising past. But, most memorable for the guests was the youngster who repeatedly strayed from mom, practicing its crater feeding and investigating the humans and the MVA! Like Pam & Liana, we were all very happy as we headed back to shore!
We're all optimistic that today is a good indicator of the trips to come!
Until next time,
Liana, Pam & Kel