On Wednesday the weather was in our favor for Bimini Adventures' dolphin trip. We departed the dock at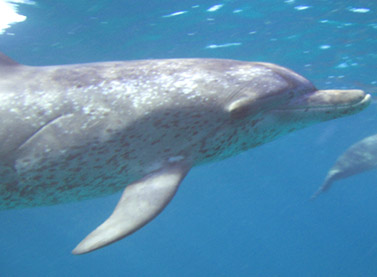 1300 as we planned an extended snorkel stop at "3 Sisters." The dolphins would not have us rush to that conclusion, however, as we were greeted by at least seven bottlenose dolphins immediately after leaving the harbor. The dolphins were on the move, so our observations were exclusively from the boat, but the flat-calm, Bimini-blue water made for a fantastic backdrop and very good views. As the dolphins continued south, we headed north, happy with the cause for delay.
After a great snorkel stop we continued in search of dolphins and did not have to wait long. We came upon eight Atlantic spotted dolphins, including un-named #40, three other adults (females?) and 4 calves. As the day worn on the group size increased and we eventually saw Split Jaw (#22), Swoosh (#36), Trudy (#57) and calf, Stefran (#57) and calf, Prince William (#64, pictured here), Speedy (#78) and Inka (#93). With at least 25 spotted dolphins making an appearance, it was a great day!
Tomorrow Kathleen passes through Bimini, by then having wrapped up the Ethological Studies course. We have a lot to catch up on!
Until next time,
Kel