This year's field course with University of New Brunswick Saint John was another success. It was not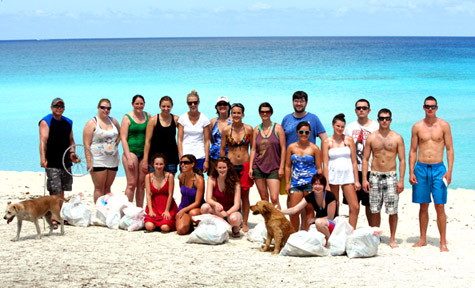 without its challenges (two days of terrible weather + one day of fantastic weather and no dolphins), but the group stayed in high spirits and engaged in the course, enjoying exciting snorkel stops, a great underwater observation of crater feeding bottlenose, surfing spotteds and more. Thanks to each and every one of you for coming to Bimini!
The UNBSJ crew also completed another successful beach clean-up last Friday. Local efforts had also been made in recent weeks to clean up Radio Beach (Alice Town, North Bimini) so the litter load was less than last year. We were still able to collect about ten bags of trash in only one hour! A special thanks also to DCP Conservation Member Giorgia P., whose support ensured this beach clean-up happened. Just think of the trash that won't end up in the ocean now!
As for me, I'll be off Bimini for about a week studying a different marine mammal on a different Bahamian island. Stay tuned for details!
Until then,
Kel