Thursday was an early day for Sabena as she made the quick journey to South Bimini for a tour at the Bimini Biological Field Station, aka the Shark Lab. She had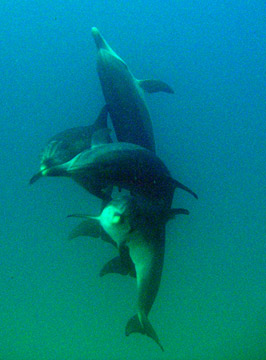 the opportunity to see their research facility, talk to a few interns, and learn about their involvement with local conservation issues and research. Sabena really enjoyed the discussions with fellow marine biologists and the chance to expand her knowledge beyond dolphin research. After the tour, Sabena quickly traveled back to North Bimini to join Alexis on a shark snorkel trip with Al Sweeting's passengers! The boat trip took the interns to "Triangle Rocks" where sharks are commonly found. We were able to snorkel with three Caribbean reef sharks and one sharpnose shark. It was a wonderful experience to learn about these impressive creatures and get a chance to see them in the wild. Thanks Shark Lab and Sea Crest for a shark filled day!
But of course, we are still dolphin researchers so to "the dolphin grounds" we went shortly after 1500. As the afternoon progressed we spotted Lil Jess (#35) bow riding! She was alone (as far as we could tell) for quite awhile, but was soon joined by Leslie (#80) and a calf (likely Leslie's).  We then had a total of 10 spotted dolphins including lone Star (#56), Speedy (#78) and, we hope, Lil' Jess' calf.  Kel and Alexis got in the water to gather video and still photographs while Sabena stayed at the surface to observe and take notes. A large nurse shark made an appearance during the encounter which only added to our shark filled day! As we were heading back to shore, we saw another nine spotteds. Five rode the bow for awhile, including Lumpy (#17), as four rode in the wake of our boat. Thank you to the dolphins and sharks for an exciting day of marine life! And thank you to all of the passengers this week; it was an absolute pleasure getting to know you all!
Until next time,
Sabena, Alexis & Kel