On Sunday, the DCP team split up for double duty as Kel headed out with Sea Crest Hotel & Marina just minutes before Sabena and Alexis headed out with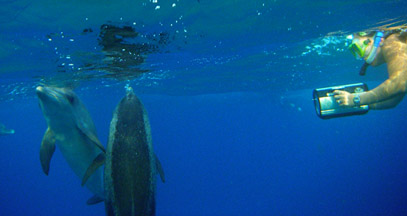 Bimini Undersea. Kel's trip began with a sighting of over a dozen spotted eagle rays right off the beach! Late in the day, some Atlantic spotted dolphins were sighted and they seemed to be having a blast surfing the swells! At first, it was Lone Star (#56) and three calves (oh, which is hers?!), but by the time we got in the water, those four dolphins were out of sight and we found ourselves observing nine different spotteds, including an interactive Swoosh (#36). Only minutes after we boarded the boat, more dolphins were in view! Because it was getting late, we tested a swim immediately and were able to observe four spotteds under water, including Split Jaw (#22) and Tilly (#87).
Meanwhile, Sabena and Alexis also had an exciting beginning to their dolphin trip as a water spout was sighted in a rain cloud in the distance. The human group was just beginning to lose hope in seeing any dolphins around 19:10 when we saw a group of approximately eight spotted dolphins! The passengers quickly regained their hope of a dolphin encounter and geared up to enter the water. Alexis had the chance to collect underwater video data (seen here with Lone Star (#56) and her presumed calf) while Sabena took still photos to identify the dolphins and supplement DCP's digital photo-ID catalog. We think Cerra (#38) was there, but it will take some more review to be sure. Lone Star and the playful, curious calf hung around for quite some time between riding the waves at the bow of the boat. After this exciting encounter, it was time to head back as the sun was setting.  The sighting was a perfect surprise at the end of the trip!
Until next time,
Sabena, Alexis & Kel