On Wednesday morning, the interns were picked up by boat to get to the Coral Reef II, the Shedd Aquarium's research vessel, to give DCP's fourth talk of the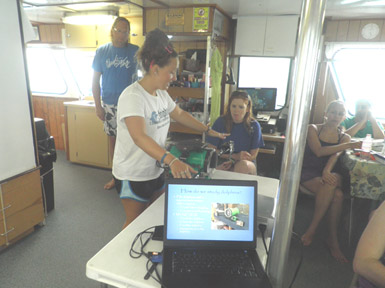 summer, this time to Shedd's Teacher Field Experience participants.  All three of us introduced ourselves before Alexis gave an introduction to DCP, our research methodologies, and interesting facts about the dolphins we study. Some of the participants were able to hold one of DCP's beloved mobile/video acoustic arrays (or more easily abbreviated as MVA!) which is how we record most of our video and acoustic data here on Bimini.  The participants were very interactive and asked a lot of questions, and we are very appreciative of the time they gave and the interest they showed in wanting to learn more about DCP's research and the dolphins.  The participants asked great questions about how to educate their students to inspire marine conservation minded behavior and stewardship back in their landlocked classrooms in Illinois. The interns were then invited to a delicious lunch and more conversation onboard the boat. The rest of the afternoon consisted of pectoral fin event sampling which was followed by a beach break before the interns continued with bottlenose photo-ID. Thank you to the participants, captain and crew on the Coral Reef II!
Meanwhile, Kel was off-island and will be returning with a Passive Acoustic Monitoring (PAM) device from Wildlife Acoustics. Stay tuned for the juicy details!
Until next time,
Sabena, Brittany, Alexis & Kel