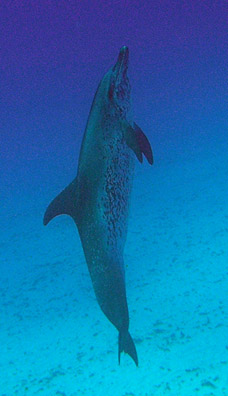 Thursday was a busy day. I was up, out and aboard the Coral Reef II early, where I had the pleasure of once again chatting with students from Chicago City Day School. Despite the early hour, these middle schoolers were bright eyed and filled with dolphin-related questions. Thank you to everyone in the program for their hospitality, interest and support of DCP. I look forward to more groups as the summer continues! The morning held a couple of phone/Skype meetings and the afternoon included yet another dolphin trip. Unfortunately the calm forecast was very wrong and we were met by rough, uninviting seas. The guests did have the opportunity to snorkel at "The Bimini Road" before an abbreviated search for dolphins and our leisurely ride home, close to shore.
On Friday, I departed the Bimini harbor with Bimini Undersea at 1528 (my 30 boat trip of the year) and everyone onboard was eager and optimistic about dolphins. The seas were far calmer and we were not disappointed. At 1638 we saw a mixed species group with a total of 22 animals. There were at least 4 bottlenose dolphins in a group of about 12 total dolphins. Keeping just ahead of this subgroup was another 10 Atlantic spotted dolphins. It looked like there was some mating (or socio-sexual behavior) and although we attempted a quick swim, the group was not interested in our in-water presence. So, it was back on the boat for an extended dolphin watch. We did see Lumpy (#17) and Stefran (#82) from the boat. Soon, it was only spotted dolphins – at first mating and then chasing fish (or so it seemed). Our patience was rewarded and we had a fantastic swim with three young males, including Prince William (#64). The other two dolphins will take some time for me to ID; I think one might become a new addition to our photo-ID catalog!
As we made our way toward home, we got to see even more dolphins. We hopped in for a goodbye swim and got a quick glimpse of Split Jaw (#22) and Tim (#69) and some other views of Prince William (#64) and Speedy (#78). It was a male-dolphin-filled day!
Yet another trip tomorrow!
Until then,
Kel