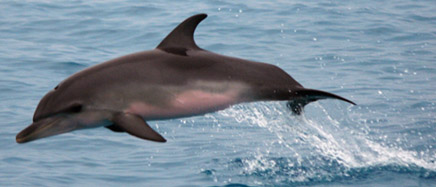 Wednesday was another lovely day in Bimini. At 1330 I was in the midst of a very engaging talk with Bimini Undersea's guests. What a fantastic group; thanks for all of your questions. Afterwards it was out to search for the dolphins. We needed no patience today: only a few minutes out we came upon a group of at least 12 bottlenose dolphins. To our great pleasure the group (including one calf!) was crater feeding which meant a nice, long underwater encounter.  It was great!
As the afternoon continued, we continued to look for spotted dolphins. At 1715  I saw a dolphin…in the air! It was quite far, but as we got closer we saw two, then four, then six dolphins, including un-named #43 and her calf. We got a brief but nice look at this group after watching them from the boat for quite some time. On the ride home we were lucky enough to see yet another group of dolphins. This time it was a scattered group of spotted dolphins, including two young calves. The calves were leaping all about, riding the bow and generally showing off their pink bellies. We said hello to one calf under water and then made way our way back to shore.
More to come tomorrow!
Until then,
Kel