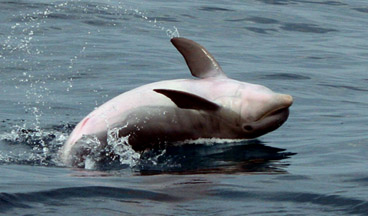 On Sunday, we departed Sea Crest Hotel & Marina at about 1530 with an enthusiastic group of French/Swiss guests. The crew, in particular, was thrilled with the calm seas after last week's wind. The guests relaxed and chatted as we all kept our eyes open for dolphins. About halfway into the trip there they were – eight bottlenose dolphins. I quickly grabbed our digital SLR, hoping to capture at least a few dorsal fin photographs. Often, when we encounter bottlenose dolphins one of two things happens: they are crater feeding (aka bottom grubbing) and we get a very long time with them or they surface and we never see them again. They did not appear to be crater feeding, so we prepared ourselves for the alternative. They went down….and then came up again. They went down….and then came up again. They…well, you get the picture. I was torn between continuing to collect dorsal fin photographs, which are a priority for our photo-ID catalog, and going in the water with the guests to see what these dolphins were up to.
Well, I opted for the surface photographs and was not disappointed; there will be plenty of photos to sort. But, I do want everything and was hanging on every word the guests and Al had to say about what they saw. This was a very rare case of mating (or socio-sexual behavior/play?) among bottlenose dolphins here. We see lots of this behavior from bottlenose dolphins, but usually within mixed-species groups. Things between the bottlenose were a bit rowdy, so the humans hung back and just watched. What a day!
The forecast is good all week, so stay tuned for daily reports!
Until then,
Kel