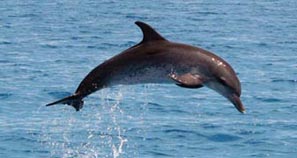 Sunday's dolphin trip was, well, incredible. The seas were flat clam and the water was crystal clear – well, except for what looked like jellyfish post-blender. We headed out on the early side (14:21) and by 14:58 we had at least 25 dolphins in our sights. They were on the move, but I was able to ID Romeo (#10), White Blotch (#29), Lil' Jess (#35), Lone Star (#56), Billy (#64), and un-named #78. Here, you can see #78 making sure he's noticed! We were in and out of the water throughout the day, but during the longest underwater encounter I recorded lots of un-named #84 and two other very young juveniles, all female. Back on the boat, I also saw Finn (#09, once again with Romeo) and un-named #17, 24 and 75. Soon there were bottlenose in the group and I spotted Nemo (#76) playfully biting at a bottlenose dolphin's peduncle! A group about 10 spotted dolphin broke away from the mixed-species group, including Niecey (#48), her calf (#92) and again, un-named #24 and 75. 
With the busy season basically over, this trip was a great way to end the main research season. Now I'll catch up on data processing, prepare for the October Biennial Conference on Marine Mammalogy and hope for sporadic dolphin trips to learn more about what the animals are doing in DCP's off-season. 
If you are looking for a way to support DCP, check out our name-a-dolphin program – un-named #78 (pictured here) needs a name! Looking for something more hands-on? Join me in Bimini in May 2010! Click here for more details.  
Thanks to everyone who has been following our research in Bimini! And, as always, a HUGE thank you to the boat operators in Bimini, without whom we would not be able to complete our research. Thank you to Bill & Nowdla Keefe's Bimini Undersea and Al Sweeting Jr.
Until next time,
Kel