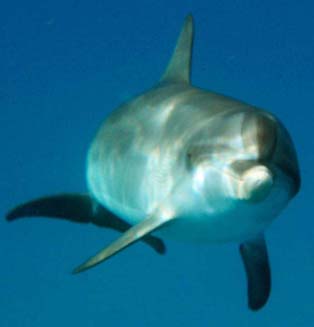 Saturday's dolphin trip was quite the adventure! The day began with a nice snorkel swim at "3 Sisters" for about 30 minutes and then it was on to the real show. We got a glimpse of our first group of about 5 Atlantic spotted dolphins at 1737. Then our trip was filled with a very large (at least 30!) group of spotted dolphins, including a number of young calves. Everyone onboard was amazed at how rare a site they were seeing and an even more rare experience in the water with them. The large group was seen at 1742 and by the end of the day we had seen (are you ready? It's a long list): Buster (#04), Lumpy (#17), White Blotch (#29), Lil' Jess (#35), Niecey (#48), Billy (#64), Nemo (#76), Leslie (#80), Stefran (#82), un-named #25, #78, #79, #84, #89, #91, #92, #93, #94, possibly Trudy (#57) and Juliette (#12) and several others that we could not immediately identify.  
We swam with a slightly smaller group for about an hour. Alexis filled up one camera and Vicki almost filled hers. Kel joined in the water for about 30 minutes filming the dolphins with the MVA. The water was calm, warm, and perfect for the wonderful day we had! Now we have lots to do with all the data! 
Another trip tomorrow, hopefully we will be as lucky as today! 
Alexis, Vicki, and Kel